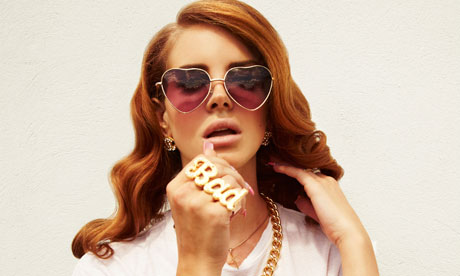 Five days, folks. The new Lana Del Rey album is continually proving, through little leaks and previews, that it is going to be absolutely bananas. Based on every.single.track. I've heard out of this young vamp to date - I know that we're in for one of 2012's biggest treats yet.
There's no doubt that the latest leak, "
Off To The Races
", features a poppier and more feminine flare than her darker, haunting first tracks - which I think she needed in order to establish herself as something other than another pretty face with a bubblegum hook. But regardless, it is still utterly fascinating how she chooses to lay-out and decorate her new songs. Bumping beats, vocal squeals, orchestral back-up and quirky samples - often featuring yelps, hollers and bits of newsflashes - are only a few of the oddities you'll find within a (less than) typical Del Rey tune. Maybe she isn't the best thing since sliced bread in many people's books, but one thing is for sure - this girl sure keeps me on my toes musically. Oh, forget it, I'll admit it's more than that - it's turning into the beginning of a longstanding musical love affair. We're all aware of that based on the hype this blog has given her. But, since I first covered her musical emergence in
September
,
and again in October (
1
,
2
) and
December
,
I maintained it was because I knew that we had only seen the first and tiniest boom out of this curious new star. Sure enough, she's off to the races.
Come on, January 31st - come faster so we can relish in the latest and greatest from this alluring new classic.