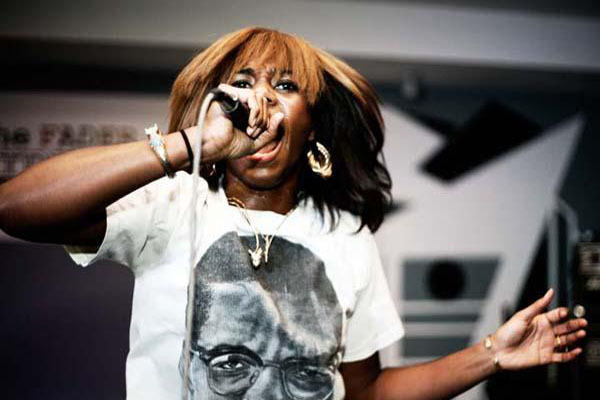 What up girl.

She's back! This week, one of my favourite tight and bright lady superstars from a few years back has returned to make an inevitable splash with her groovy, beat-heavy followup track "
Disparate Youth
."
Santigold
, formerly Santogold (something which heavily confused me when checking recent music news; I'm a stickler for making little to no spelling errors and thought I had botched two years of writing about her), was hands-down one of the most talked-about new artists to make waves in 2008 with her strangely fabulous dancehall-rock debut.
Born Santi White, her sassy "just-watch-me" musical attitude attracted the likes of some career-feeding musical bigwigs in her first round of the game, before she took a brief hiatus - leaving us with bated breath to hear what other exalted dub album she would spit out. So, to hear that another favourite hip and mouthy female L.E.S. Artiste is back in the saddle with a lively party anthem, gets me a wee bit antsy to hear the rest.
This first whack, a quickened dub beat with spurts of fluttering piano, lightning guitar and her sultry pop growl, absolutely gives me life right now. Something tells me this single, and this flashy cool chick, are the first of something that will rock 2012 - a year already decorated by dub, controversy, and more room than ever for a few more pushy women on the airwaves. I don't know why or how, but my little ear is sniffing out a few massive awards, several hits and a big and bossy album on the Billboards. And to that I say - welcome back, girlfriend.
P.S. The last minute (4:00 onwards) of the song? My favourite.
Look out for her new album, Master of my Make Believe, later this year - and her 5-track EP in April.