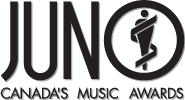 The JUNOs are being held in my old stomping grounds this weekend, and as sad as I am to leave my new very favourite place that I now call home, it is undoubtedly a wonderful opportunity to see friends and celebrate Canadian music. I'll be covering the awards ceremony and everything leading up to it for the magazine I write for, and will of course return home with juicy stories and highlights from the big weekend. Who can't I wait to see? These people in particular. Oh, Canada.
A new favourite from the past year. This album is worth a purchase.
A classic slow-dance anthem.
This song gives me roadtrip jitters. It doesn't get much better than this song and a summer roadie.
Chantal was one of my first live shows!
The Arkells are just so wonderful.
I know I showed off the Whitehorse version of this song yesterday, but it's one of my all-time favourites....
I am nearly obsessed with this band. And this song. And this video! Ah.