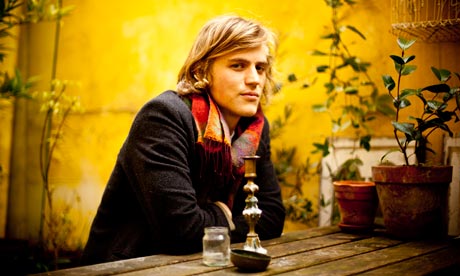 So, two quick and important things to note here. First, I'm aware this has been a major alt-country and folk week over here. I really can't help that - fall just brings it out in me. Secondly, I completely admit that I've only just jumped on this seasoned artist's bandwagon in recent weeks, and I'm a little embarrassed about that, because he's such a pleasure to listen to. Not hard on the eyes, either.
I'd heard the name
Johnny Flynn
tossed around in years past, but never actually stumbled upon a song, and therefore didn't do any further investigation into his sound. Only recently, following the release of his September 30 third album
Country Mile
,
did I perk up and take the chance to listen - before becoming completely hooked on some of his newest tracks. As an actor, poet, songwriter and musician, Johnny Flynn's songs are filled with simple tales of tea, journeying and love - needless to say, sometimes completely satisfying the British folk performer stereotype. Lyrics aside, the music is rich and, at times, really powerful. With likable chord progressions under his accent-heavy growl, you can't help but think of fellow Londoners Mumford & Sons - but, that comparison feels a little cheap considering Flynn's been crafting the same sort of rootsy melodies since 2008 (
Rolling Stone
's David Fricke praised his debut that year).
The first single from
Country Mile
, "
The Lady is Risen
," is anything but lyrically or instrumentally lackluster. Flynn's handsome vibrato marches like old prose over the acrobatic guitar chords and a nice band of brass, rising up and down throughout the song with impressive momentum.